The Healthy Work Campaign is more than an online public health campaign. We're a movement that strives to bring ideas and people with different perspectives and strengths together. Visit this page to keep tabs on our events—those we attend, present at, or host, as well as those of our partners.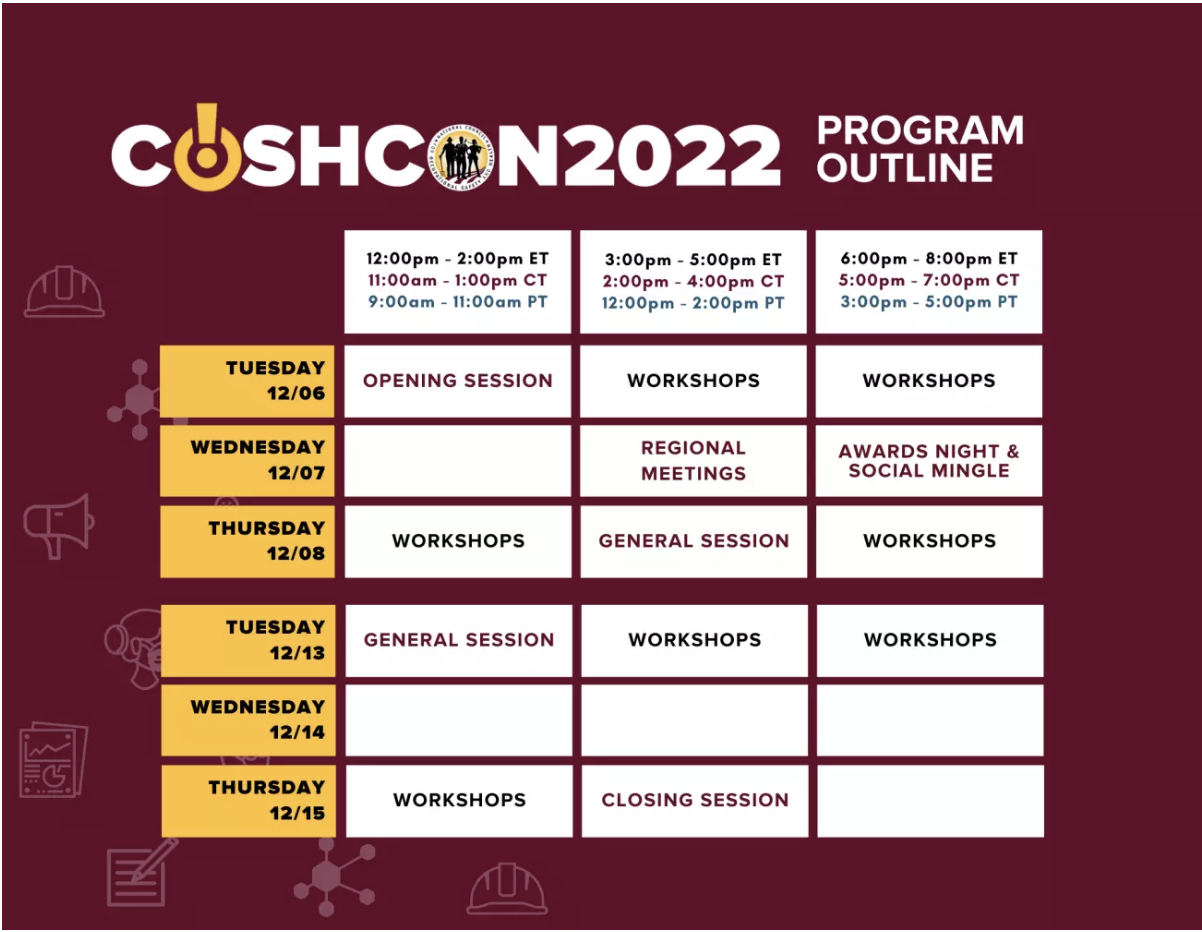 Starting December 6th, our newest campaign partner, National Council for Occupational Safety and Health (National COSH), will be hosting their annual conference, COSHCON. This year, it is again virtual, and there are still plenty of spots and you can attend as you're available: December 6-8, as well as 13-15.
This dynamic conference brings together a diverse, inclusive and bilingual group of workers, occupational health and safety experts, unions, activists and academics united around common goals–to celebrate and encourage workers' power, make our workplaces safer, and reduce the toll of on-the-job injuries, illnesses and fatalities. All of the workshops and other programming will be held in both English and Spanish.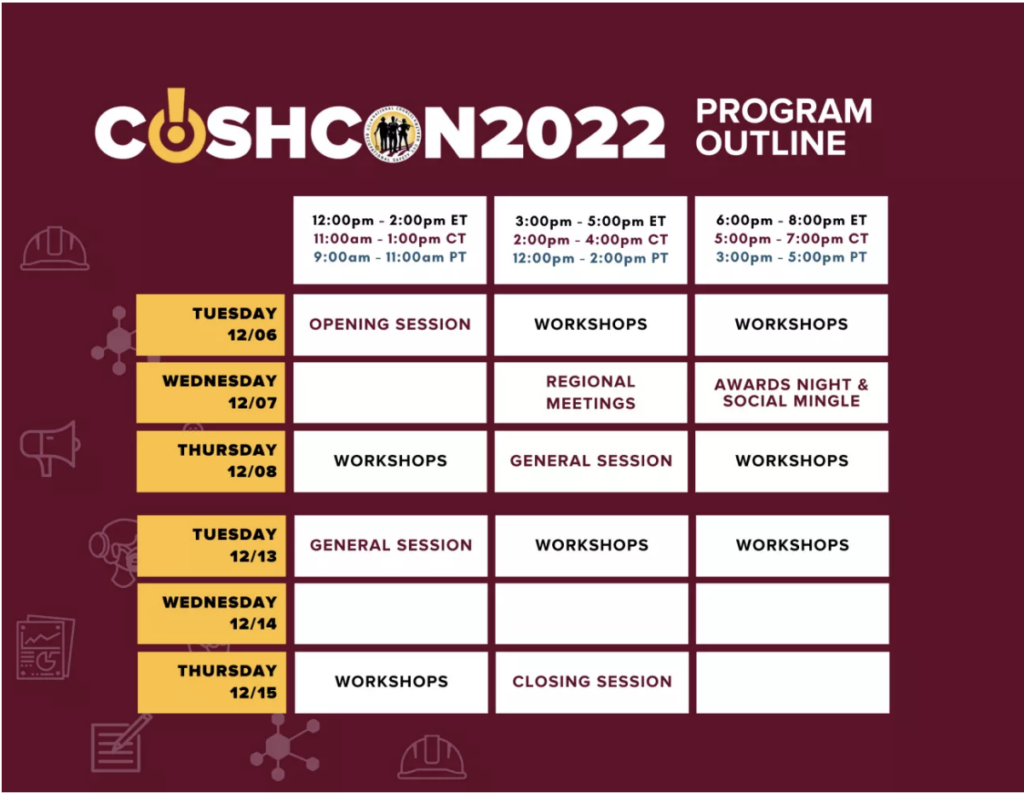 Tickets are $90 before December 6th, when they go up to $99 a person. If you are a student or need financial assistance, you may qualify for a full scholarship. To register, visit https://nationalcosh.org/COSHCON2022.
To learn more about National COSH, check out our 9/1/22 post, announcing our partnership.
Tomorrow, November 17th, 2022 at 1pm ET/10am PT, our HWC partner, Occupational Health Clinics for Ontario Workers (OHCOW) will present a webinar titled "Worker-Informed Science: Learning and Collaborating on the Provincial, National and International Levels." (as part of their Worker-focused Science & Prevention Webinars series)
The first part of this webinar will feature a discussion between OHCOW and the Occupational Cancer Research Centre (OCRC) exploring the relationships between workers' personal health experiences, clinic-based clinic-based disease/exposure investigations, and occupational health surveillance research — in plastics and rubber production workers, as well as mine workers.
The second part of the webinar, the International Association of Firefighters, Health Canada, and the International Agency for Research on Cancer will address the occupational health journey of firefighters.
Speakers include:
– Jeavana Sritharan, PhD, OCRC
– Sarah Rhodes, PhD, OHCOW
– Neil McMillan, IAFF
– Alexandra Long, PhD, Health Canada
– Dr. Nathan DeBono, IARC
Learn more
about this important webinar and
RSVP here
.
Burnout is bad for workers and bad for business. So why has it become an epidemic in the U.S.?
On Friday, October 28th at 10am PT/1pm ET, the Healthy Work Campaign will host "Breaking Down Burnout."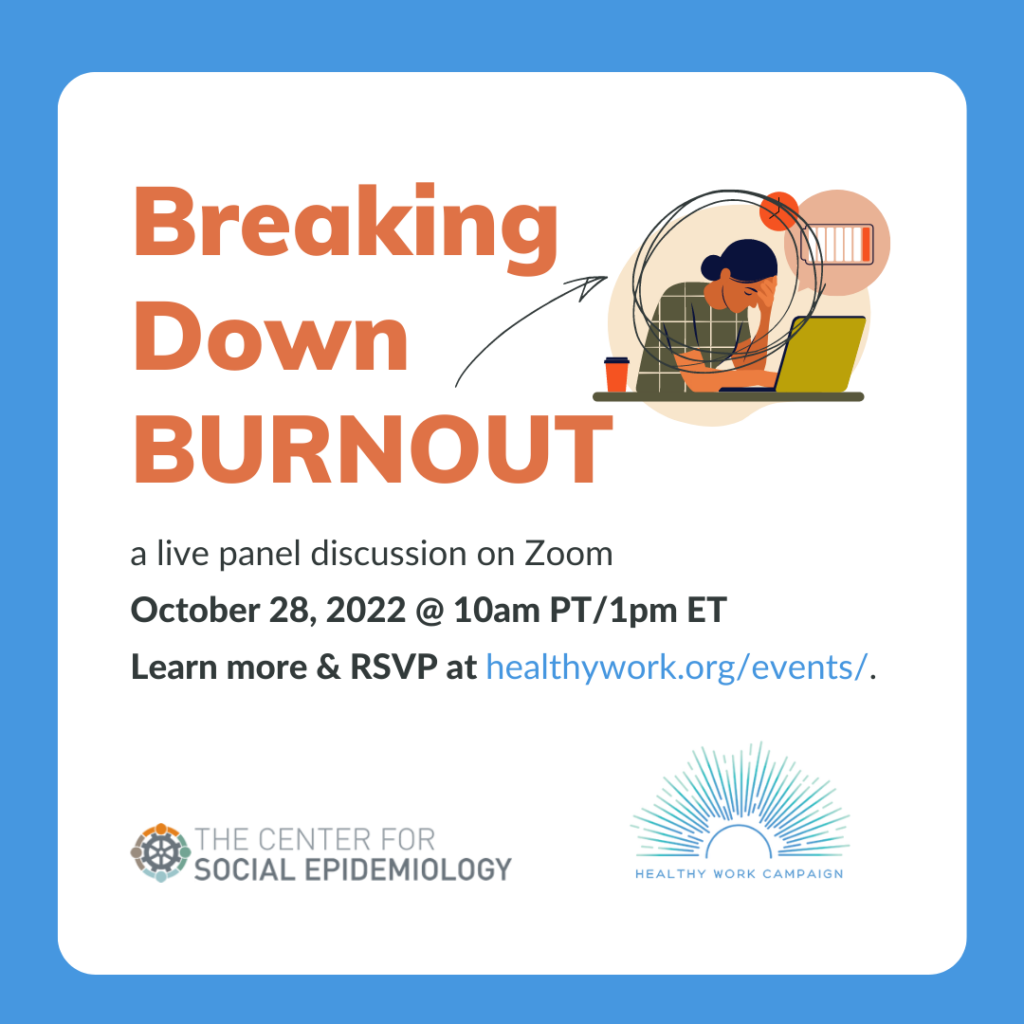 In this live panel discussion (on Zoom), experts from the Healthy Work Campaign and special guests will discuss questions like:
What is burnout?

How prevalent is it really?

And what can be done about it?
Panel lineup includes:
Marnie Dobson, HWC Director
Peter Schnall, HWC Co-Director
Viviola Gomez-Ortiz, HWC Senior Strategist for Latin American Outreach and Spanish Language Content Development
Pouran Faghri, HWC Dissemination and Implementation Director
Julie Mendez-DeLeon, Education Director – American Federation of Government Employees
RSVP here and spread the word! We look forward to seeing you there.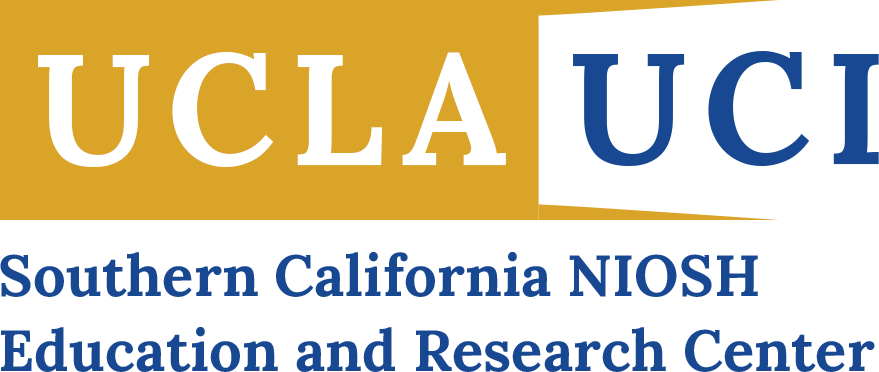 On Wednesday, October 19th at 10am PT, our HWC Dissemination and Implementation Director Dr. Pouran Faghri will co-moderate a webinar symposium by our HWC partner, Southern California NIOSH Education and Research Center (SCERC) at UCLA/UCI.
"Substance Use and Addiction in the Workplace: Implications for Interventions" (the symposium on the 19th) is a part of SCERC's Mental Health in the Workplace Series.
In this installment, psychiatrists Stuart Gitlow, MD, MPH, MBA and Timothy W. Fong, MD will present and Dr. Ed Alvino, Dr. Taha Ahmad, and Dr. Pouran Faghri will moderate.
Learn more about the presenters and the webinar agenda here, and RSVP here.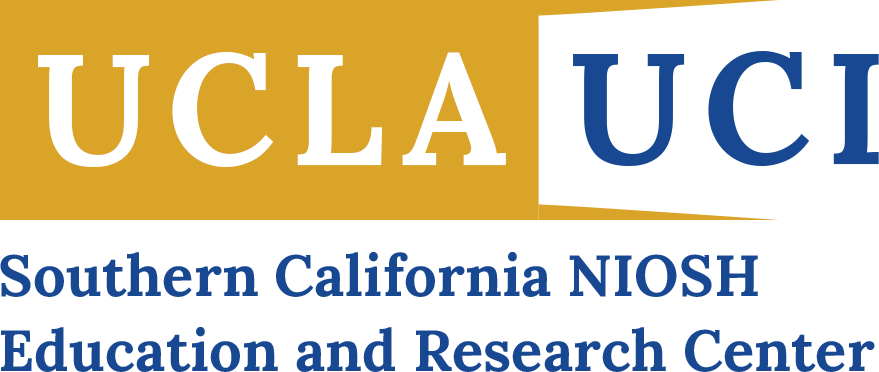 From October 11–14, 2022, the National Institute of Occupational Safety and Health (NIOSH) will host their 3rd International Symposium to Advance Total Worker Health® titled "Shaping work now and in the future."
The conference will be held at the National Institutes of Health, Natcher Conference Center, Bethesda, Maryland, USA. Conference registration opened in June. Information about the symposium can be found here.
On Wednesday, October 12th around 5:05pm ET, HWC Director Marnie Dobson, PhD and HWC Co-Director Peter Schnall, MD MPH will be presenting on the Healthy Work Survey in the 4:15-5:30pm ET "Concurrent Session" as part of session 808 (C).
If you have paid to attend the conference virtually and wish to attend Marnie & Peter's virtual presentation, you can find out more details on the Virtual Symposium Agenda. We'd love to have your feedback on the progress we've made with the Healthy Work Survey over the last year.
(This post has been updated and was previously featured on this Events page prior to April 1, 2022 and September 23, 2022.)
On September 30th at 10am PT/1pm ET, the Healthy Work Campaign will be hosting "Unpacking Quiet Quitting."
This live, online panel discussion will address "quiet quitting" from a research-based occupational health and safety perspective. How did the term come to be? How are different parties defining it? What's really going on? And what can be done about it?
All this and more will be unpacked by experts from our team:
Dr. Marnie Dobson, HWC Director
Dr. Peter Schnall, HWC Co-Director
Dr. Pouran Faghri, Dissemination & Implementation Director
David LeGrande, Labor Outreach Coordinator
Moderated by Mark Van Landuyt, our new Outreach Projects Director
You do not want to miss! RSVP here and spread the word!
On June 24, 2022, 12-1 PM EST (9-10 AM PST):  Tony LaMontagne will present a webinar titled "Work as a Social Determinant of Mental Health" for CPH-NEW's Total Worker Health® Trends: Expert Webinar Series.
Tony LaMontagne is Professor of Work, Health and Wellbeing at Deakin University, Australia. Professor LaMontagne's career has been dedicated to developing the scientific and public understanding of work as a social determinant of health, and translating this research into policy and practice to improve workplace and worker health. His research and publications have influenced policy & practice in workplace health both nationally and internationally.
From June 17-19, the 2022 Labor Notes Conference will be held in Chicago, Illinois at Hyatt Regency O'Hare by O'Hare International Airport.
Earlybird registration costs $130 until May 1st when the price goes up to $175. To learn more about the conference and to register, click here.
(This post was previously featured on this Events page prior to April 1, 2022.)
For regular registration, at $175, visit: https://www.labornotes.org/2022#register.
On June 16-17, 2022, Healthy Work Campaign Directors Dr. Marnie Dobson and Dr. Peter Schnall will participate in the 2nd Annual UCI-COEH Symposium on Occupational and Environmental Health Threats*–now taking place virtually.**
This year's symposium name and focus is: Back to the Future: Looking towards sustainable, equitable, and healthy transportation. This 1 ½-day academic conference will be a chance to learn from leading experts about health and environmental hazards associated with transportation and earn continuing education credits. Healthy Work Campaign Directors Dr. Dobson and Dr. Schnall are scheduled to present on bus driver research on June 16th from 10:30-11am PT.
To learn more about the symposium, visit: https://www.coeh.uci.edu/events/symposium/.
To register for the virtual symposium ($250), visit here.
*UCI-COEH stands for University of California Irvine's Center for Occupational and Environmental Health and is where HWC Director Dr. Marnie Dobson is affiliated as a professor. HWC Partner, Southern California Education and Research Center (SCERC) at UCLA, is co-hosting this event.
**This post was updated on June 14, 2022.
On June 9th, 2022 at 2pm ET (11am PT), Dr. Paul Landsbergis (Principal Investigator – Healthy Work Toolkit) is participating in an NIEHS webinar called "Opioids and the Workplace, Risk Factors and Solutions."
During this webinar, Paul and the other authors of a special issue of "New Solutions: A Journal of Environmental and Occupational Health Policy" will present on research that addresses the convergence of COVID-19 and the opioid crisis, high-risk occupations, and health inequalities in the workplace.
They will also share potential strategies to reduce the negative impact of workplace factors on the opioid crisis and reform punitive policies into supportive ones. These strategies include policy changes at the workplace, community, state, and federal levels to begin or expand interventions, as well as training, research, and funding opportunities.
Presenters:
• Jonathan Rosen, National Clearinghouse for Worker Safety and Health Training
• Paul Landsbergis, SUNY Downstate Health Sciences University
• Aurora Le, University of Michigan
• Rachel Cooper, National Stigma Initiative – Shatterproof
• Jodi Sugarman-Brozan, Massachusetts Coalition for Safety & Health
• Jerry Marcil, Connecticut Counseling & Wellness, Consultant to Operating Engineers International Union Local 478
This webinar is sponsored by NIEHS, NIOSH, and AIHA with support from the NIH Office of Disease Prevention.
To learn more about the event, check out this flyer: NIEHS NS Opioids Special Issue Webinar Series English 050522_508
To RSVP, visit: https://nih.zoomgov.com/webinar/register/WN_zOvObVYmRFeVjPHqWhhI-g.