Healthy Work Tools
For Unions & Worker Advocates
What is the next step?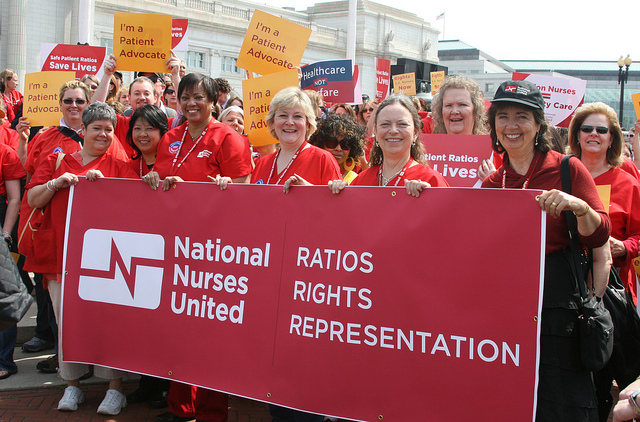 If you have collected surveys from enough people using the Healthy Work Survey, you're probably wondering what to do about these results (beyond what the survey recommends).
While workers need their own personal resources to help them cope, we also provide information about the importance of working together to get organizational change. (See Healthy Work Tools for Individuals to learn more.)
While many unions are already tackling issues affecting #healthy work, unions can be more effective in protecting their members' health and safety by working to reduce and prevent work stressors. Below we have some recommendations, tools and strategies to help make proposals to the employer about the best action to deal with work stressors and to lobby for new legislation or regulations to make work healthier.
Healthy Work Strategies
Healthy Work Strategies include workplace research studies, programs, contract language, regulations and laws designed to reduce sources of stress at work (work stressors), and to make work and workers healthier. Each report below is a summary about how to improve the organization of work to reduce work stressors, such as:
Long work hours, bullying, sexual harassment, discrimination, threats of violence, understaffing, job insecurity, lack of supervisor or coworker support, work-family conflict, job demands, lack of job control, job strain, and "effort-reward imbalance".
The types of Healthy Work Strategies include:
Labor-Management Contracts
Unions have worked to reduce job stress through bargaining contracts. While many of the collective bargaining efforts have not been scientifically studied to determine their effectiveness, they are legal requirements and thus don't depend upon the level of cooperation of a particular manager or supervisor. These reports are based on news stories and reports from specific unions and/or industry publications and illustrate effective efforts to improve the workplace.
Collective bargaining agreement (contract) designed to improve working conditions and reduce stressors for Rutgers University faculty, graduate and teaching assistants
Collective bargaining agreements (contracts) designed to improve working conditions and job security for Brown University dining services workers
Contract Language to Reduce Job Stress in Education & Healthcare (Summary)
First collective bargaining agreement for airport workers and security officers at New York and New Jersey airports
Jim Beam workers achieve better work-life balance through new labor-management contract
New contract for Los Angeles teachers includes important features designed to reduce teachers' job stress
New York State Nurses Association (NYSNA) contract with private hospitals in New York City focuses on improving safe nurse staffing levels
Reducing workplace bullying through a union-sponsored Respectful Workplace Policy and collective bargaining
SAG-AFTRA creates code of conduct to prevent sexual harassment in the workplace
Trade union actions to prevent psychosocial risks in healthcare (E.U.)
Work-life balance and trade unions
Hotel Housekeeper Study and Workload Reductions
Hotel housekeepers face a higher risk of injury than other hotel workers, in part due to high workload and pressure to clean hotel rooms quickly. In 1999, the hotel workers union in San Francisco, after documenting hazards faced by the housekeepers, was able to bargain a contract, reducing the quota for rooms cleaned in one day from 15 to 14. Since then, hotel workers and their union (UNITE-HERE) have bargained contracts on workload, conducted research, educated workers and the public, helped pass a California regulation on preventing hotel housekeeper musculoskeletal injuries, and also campaigned against sexual harassment of hotel housekeepers. Find out more and how you can help.
The Pennsylvania Association of Staff Nurses and Allied Professionals
Following a 28-day strike in 2010 at Temple Univ. Hospital, Philadelphia, workers won voluntary 12-hour shifts and overtime, accrual of a sleep day after 16 hours. They rejected shorter minimum call times, and lower weekend and night shift differentials. This kind of contract improves exposure to long work hours and schedules that can affect sleep and reduces workload demands.
Need some sample contract language?
See examples of contract language on job stress and on staffing in a variety of occupations from an excellent Labor and Occupational Health Program (LOHP) book on collective bargaining on occupational health and safety.
Laws and Regulations
Unions have also worked to reduce job stress by lobbying for laws and regulations. While many of these legislative efforts have not been scientifically studied to determine their effectiveness, they are legal requirements and thus don't depend upon the level of cooperation of a particular manager or supervisor. Laws and regulations also typically reach more people than the workplace-based programs that have been studied. These reports were based on news stories and reports from specific unions and/or industry publications. Laws that have been passed or are pending which would reduce some work stressors include:
Healthy Families Act
The Healthy Families Act is currently in Congress and would allow workers to earn up to seven paid sick days a year. Creating a national paid sick leave standard would allow millions of Americans to earn the time necessary to recover from illnesses like the flu, access health care and take care of a sick family member.
Schedules That Work Act
H.R. 5159, is a bill in Congress that seeks to remedy "on-call scheduling" nationally. Retail workers, food service workers, cleaners and many other occupations have irregular or "on-call" schedules which play havoc with people's lives, like scheduling child care at a moment's notice, or finishing college courses. Success stories addressing these issues include: 1) San Francisco, which was the first city in the U.S. to pass a Retail Worker Bill of Rights (in 2014), and 2) retail workers and others who came together in New York City and successfully passed a law in 2017 that ends "on-call" scheduling in the City.
Portable Benefits for Independent Workers Pilot Program Act
This Act would allow the U.S. Department of Labor to authorize grants to states, local governments, and nonprofits to design new models to provide and implement "portable benefits" (retirement savings, workers compensation, life or disability insurance, sick leave, training or educational benefits, healthcare and more) for independent/precarious workers such as contractors, temporary workers and self-employed workers, and would especially benefit low-wage precarious workers. This bill could help to alleviate some of the stressors related to being a precarious/gig worker.
Workplace Research Studies and Programs to Reduce Work Stressors
These workplace research studies and programs, published in scientific journals, were selected because they were designed to reduce sources of stress at different workplaces in order to improve employee health (health promotion programs intended to change individual behaviors are not included). Many include a participatory "action" research focus, which means they involved workers, labor and management in a process that was intended to create positive change. These studies document the effects of workplace programs and policies and provide important details about the process of changing working conditions—so that you can see if such a process might work in your workplace or industry.
Health Care
Reducing work stress and improving the mental health of hospital workers (Quebec, Canada)
Manufacturing
Job redesign at a sweets manufacturing company in England
Public Sector Workers
Changing workplace policies and procedures reduced blood pressure among Quebec, Canada white-collar workers
Increasing job control and reducing other job stressors among call center workers in England
Redesigning the jobs of postal workers in Uppsala, Sweden
Supervisor Support and Work-life balance
Improving employee safety, health, and well-being through improved team communication and work-family balance
Reducing work-family conflict through supervisor training on Family Supportive Supervisor Behaviors (FSSB)
Teachers/Education
Workplace policies and programs to reduce job stress among K-12 education staff (U.S.)
Transit Workers – bus drivers
Action research intervention with urban bus drivers in Copenhagen, Denmark
Bathroom access for bus drivers in the US and Canada
Intervention to reduce job stress among urban bus drivers in Stockholm, Sweden
Preventing threats and violence against bus drivers
Programs and policies to reduce work stress among bus drivers in the United States and Canada
Workplace bullying/discrimination/violence
A training program for workers and managers on reducing male bullying and workplace violence (U.S.)
Organizations* that Promote Healthy Work
For more information, guidance and strategies for effective work organization change, check out:
*These are just a few examples of organizations that could provide resources to learn how to more effectively work together to address #healthywork. There are many more such organizations.
Work Stress Educational Materials for Unions